HOME OF "CANADIAN BEST MAINE COON" OF CCA SHOW SEASON:
2012, 2013 , 2014, 2015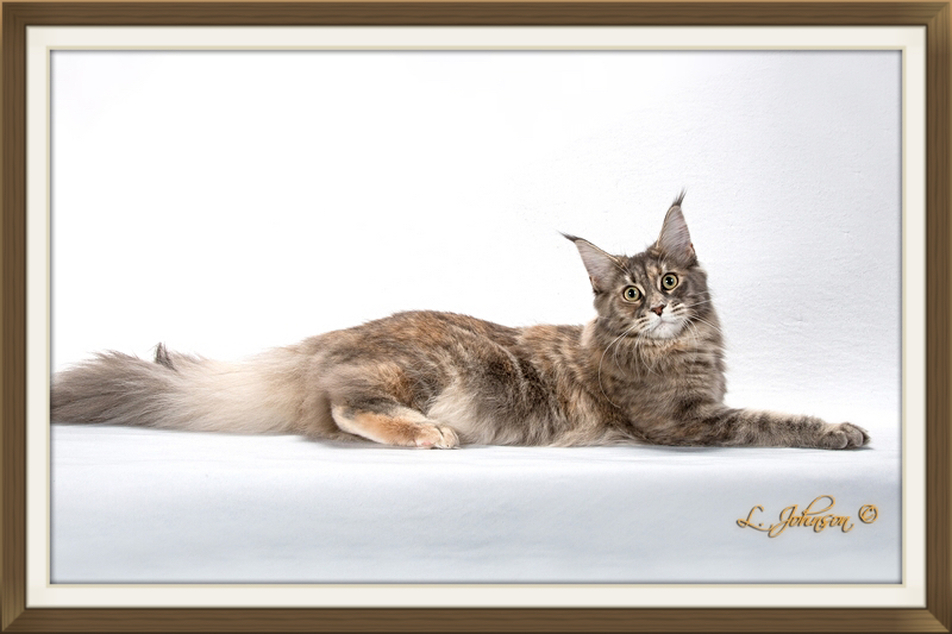 Customer Reviews:

Shauna Goshko
What a pleasure to adopt a kitten from Sabrina. We are so happy with our Maine Coon , Lincoln. He is so playful and loving and so very sweet. It started when I contacted Sabrina requesting a mackerel tabby male and she showcased our little guy from one week of birth to his departure to us in British Columbia, Canada. . So many videos and photos were sent so we could watch him grow his first 13 weeks. Sabrina was AMAZING. She was readily available for any questions or concerns and showed so much dedication, love and compassion for her all of her furry friends. I highly recommend Sabrina if you are looking for a healthy beautiful gentle giant.

Nachy Sam
Sabrina is an excellent breeder. She is very knowledgeable and informative. She has a great home and is very friendly and open about letting you meet her cats. I highly recommend this breeder to anyone.

Dr.Michael Oerbach
Sabrina is a very caring and conciencous breeder. She shows her compassion and dedication freely. I have referred friends who are contemplating a Coon cat.

Lyne
Sabrina is amazing and very caring person. She loves her cats and it shows. I am very pleased with my Maine coon and highly recommend her.

Daymond Robins
We are so happy with our Maine Coon Kitty - he is so playful and loving. His demeanor is fabulous. Sabrina was AWESOME to deal with - she helped us with all of our questions we had. An absolute JOY to deal with. If you want a Maine Coon call Sabrina - she loves her furry friends!!!!!!

Malek Smith
Sabrina was outstanding throughout the process. She was very responsive to emails, sent me pictures and videos of my kitten as he was growing, and even dropped him off for me. My little guy is in great health, had all of his shots and dewormings up to date, is super playful and friendly, she did an outstanding job raising him in the first few weeks. Highly recommended!

Lisa Nicholson
Our experience with Sabrina was wonderful. She takes great care of her cats. She always kept in touch with us when we decided to buy Massimo, our Maine Coon from her by updating us on his progress and sending video on a regular basis. Sabrina is honest and reliable. I highly recommend Sabrina if you are looking for a healthy and beautiful Maine Coon.

Lynsey
Sabrina's Maine Coons are beautiful and have great temperaments. She is a very thorough breeder. I purchased 2 kittens and couldn't be more happier! Highly recommend SR Maine Coons!!

Carolynn Prior
Great to deal with.

Aaron Hancox
A very "pawsitive" experience. Sabrina is the most knowledgeable Mainecoon breeder I've met. She's highly respected in the community. And even though I opted not to buy one, I would go to her if I wanted a Mainecoon.

LESLEY SANDERSON
We picked up our Maine Coon kitten when she was twelve weeks old. The cattery was very clean and spacious with lots of room for the cats. Sabrina kept us updated on our kitten and sent photos regularly. Our kitten was very healthy and had had all the required vaccinations for her age. We have been very happy with our kitten.

Christine
I had the most amazing experience welcoming one of Sabrina's beautiful Maine Coon kittens into our home. From my first phone call with Sabrina, I could tell these kittens were extremely loved and well-taken care of. From the get go, Sabrina made sure to understand what kind of temperament I was looking for in a kitten since we have two young children. Through the process, she always kept me in the loop and sent me videos not only of the kittens but also of their parents. She matched us with a perfect kitten who fits into our home so well. He is probably the friendliest, most affectionate kitten I have ever had. Not to mention, he's gorgeous! He even got along with my dog right from their first meeting, which actually surprised me! If you're looking for a Maine Coon (they are the best breed), I highly recommend SRMainecoons. You will never regret it!

Rick Sleaver
Awesome experience with Sabrina and SRmainecoons. My little princess is a well-adjusted, happy kitten who loves everyone. Thank you Sabrina!

paula
We were very fortunate to find Sabrina at SRMaineCoons. Sabrina is a committed breeder and we could not be happier with our Louie.

Ken
​We've purchesed three kittens from SR Maine Coons and feel very fortunate to have found a breeder as conscientious and caring as Sabrina. Whenever a concern has arisen she has helped us in every way possible. In fact, going beyond what might be expected. The kittens are all happy and healthy and a delight to be around. I highly recommend SR Maine Coons as I have had nothing but positive experiences over the course of the relationship. If we ever contemplate another kitten we will most certainly return to this excellent breeder.


Thank you for your interest in my Maine Coon cats. I am a home based Maine Coon cat cattery, located in Niagara, Ontario. I am dedicated to breeding large, healthy & sweet tempered Maine Coons.

My kittens are bred from national / regional champion bloodlines and available in numerous colours.

I have chosen my cats from distinguished pedigrees from around the world. My Maine Coons have been imported from Greece, Germany, United States, England, Czech Republic, Poland and Indonesia.

All of my kittens come with health and registered in either Cat Fanciers Association (CFA), International Cat Association (TICA) or Canadian Cat Association (CCA). I take great pride in showing my MaineCoons in all associations.

All of my breeding Maine coons are tested by echo-cardiogram for hypertrophy cardiomyopathy (HCM). The Maine coons are also DNA tested for the one genome that researchers are able to test for.

I ship all over North America. My kittens are currently in New Jersey, Pennsylvania, Alberta, British Columbia, Newfoundland, Manitoba and Ontario.

If you are interested in my Maine Coons please email me at sabrina@srmainecoons.com or fill out form down below.

We welcome visitors any time of the year!
Disclaimer: Screening and DNA testing for HCM is currently recommended method to aid in reducing the incidence of this condition in cats. Breeders cannot guarantee that their cats will not develop this condition. However, SRmainecoons can guarantee that we are dedicated to screening our breeders in a continued effort to produce healthy and sound Maine Coons to the best of our ability.
Website content (including all images) © 2013-2017 SRmainecoons
All rights reserved. No form of reproduction, including printing copying or saving of
digital image files, or the alteration or manipulation of image files is authorized
unless accompanied by written permission by SRmainecoons